Indoor-outdoor living: the aspiration, the lifestyle dream. Incorporating the best of both worlds into one space, it is the ability to transition between the two without having to change a thing; a concept Australian contemporary furniture designers Ambient Lounge know more than a little about. For Aussies, it's a way of life, whilst for others it is a lifestyle many are striving to attain; more so in times when disconnection is of spiralling significance.
Offering supreme flexibility for the authentic indoor-outdoor living lifestyle, the Ambient Lounge Twin Avatar bean bag sofa is capable of bringing comfort and luxury to any space; even given the tight space constraints of contemporary city living.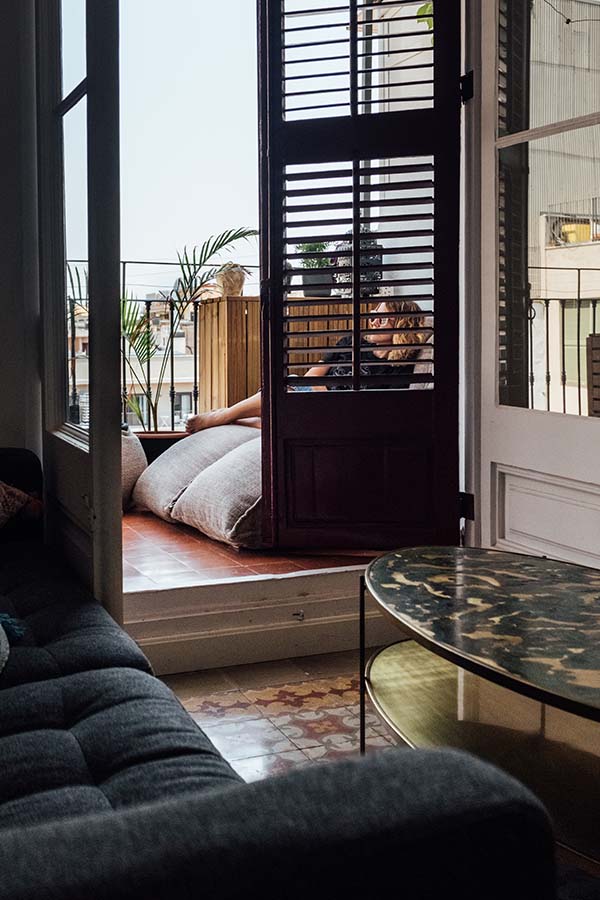 Made from a wondrous and durable open weave fabric, the Twin Avatar is a heavyweight in the style stakes; yet surprisingly soft. A deluxe model, it offers full body contoured support—as concurred by both a male of well over six foot and a female 12 inches less—and its headrest can be adjusted to suit humans of such varying sizes with equal comfort; the fabric sumptuous to touch. A poster boy for flexibility, the Twin Avatar Deluxe is as at home in your cinema or games room as it is in your urban crash pad; the latter where We Heart road tested our very own set recently.
With more of us living in cities than ever before, space is increasingly of a premium. We are looking for ways to live simply but fabulously, and—by combining high technology, comfort, timeless design, and respect for the environment into a single solution—it can possible; you just need to find the right brand. Of which Ambient Lounge are one.
Conceived over 20 years ago with the desire to fuse 'a relaxed lifestyle and hint of Melbourne café and urban culture with a creative Australian contemporary interior design landscape', they have transformed the beanbag into aspirational and functional furniture; covering their luxe 'bags in premium (and in many cases waterproof) fabrics ready to elevate your indoor and outdoor living to the next level.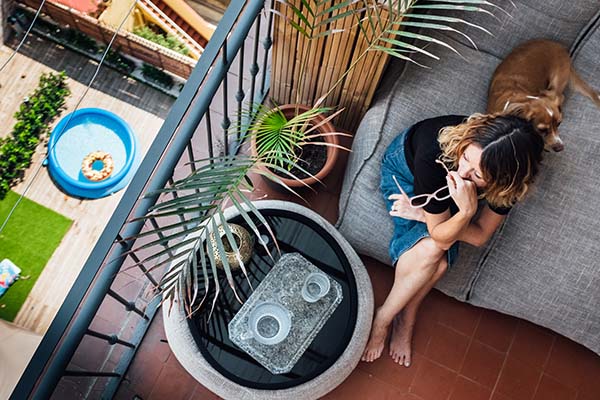 Covered in the neutral Eco weave, this designer bean bag looks like it was made for the light-filled covered terrace of this Barcelona apartment. Smugly scoring a mid-week day off work and with nothing to do other than nothing itself, I'm set to enjoy a well deserved few hours of relaxation; something we all struggle with in today's world of constant connection. Determined to switch off and re-energise—with laptop under arm, notebook in hand and large jug of water in the other—I head to the terrace and place a virtual 'Do Not Disturb' in the paths of anybody who may cross me today.
Forcing myself to write notes with paper and pen, using my mobile only to assist in meditation, my laptop to watch old movies, the Avatar sofa is just the place to encourage this sort of reconnection with the self. I watch the world below go by, rehydrate with h20—a jug of which perches on a matching, ultra-stable and multi-faceted Versa Table—I lie down, I sit up; sideways, upside down even. Today is a day for living in the moment and doing whatever the hell I choose to. And so I continue.
Smart living, city living, Ambient Lounge's Twin Avatar range is a luxury solution that can make the most of any space. Headrest set, feet up, cocooned in my bean bag sofa … living the indoor-outdoor lifestyle. Afternoon gives way to a Netflix-fulled evening, and a brief snooze confirms the flexibility of this soft furniture. Idyllic and iconic, this contoured lounger is the stuff dreams are made of. Literally.